On the afternoon of September 14th, President Li Hexing paid a visit of East China Electric Power Design Institute (abbreviated ECEDI)to attend the inauguration ceremony held for a studio built exclusively for graduates with the company of Zhang Chuan, chief accountant of the university, heads of the Office of the University President, the Graduate School, the Division of Academic Studies, and the Division of External Liaison. Gu Jin, Party secretary and chairman of directors of ECEDI, attended the meeting with Ye Yongjian, deputy manager, Chen Songlin, deputy chief-accountant and director of the Personnel Department, Chu Zhenron, head of the Office of ECEDI, Kong Yu, director of Production and Technical Management, Hou Xinjian, general manager of the branch company of power engineering, Chen Yue, deputy general manager of the branch company of electricity grid, Yang Peng, deputy director of the Systematic Planning Research Center, and Xu Longhu, deputy general manager of the Branch Company of New Energy Development, Investment and Operation.
First Gu Jin extended a warm welcome to President Li and all the other visitors, speaking very highly of the employees who graduated from SUEP. She introduced the development of East China Electric Power Design Institute gained in recent years and their advantages in the industry from the aspects of their expanding business, technical strength and achievements accomplished in projects. She said that the rapid development of the company demands a large number of professionals, yet the university motto and educational conception appealing students to hold a pragmatic and down-to-earth attitude is very compatible with their company culture. It is believed that both parties will co-work to provide a larger platform for student training, internship and employment by building up a studio for graduates, and it is hopes that both sides will keep close contact in the near future and seek more cooperation in talent training, project research and development, studies of certain subjects and so on.Ye Yongjian put forward his ideas about the establishment of a long-term cooperation between both parties in the context of double-carbon policy while Chen Songlin introduced the company's employment and the teams built in recent years. He pointed out that Shanghai University of Electric Power has been focusing on training applied technicians while East China Electric Power Design Institute deals mainly in engineering construction, thus the supply and demand of both sides are in conformity with each other. He said that graduates from SUEP are welcome to join ECEDI.
Li Hexing expressed his thanks for their hospitality and recognition of the graduates from SUEP. He reviewed the development of SUEP in recent years including disciplinary designation and postgraduate education. He said that by establishing the studio for graduate, we will strengthen the cooperation with enterprises in the near future and make full use of our own resources so that a long-term and in-depth cooperation will be established and both the university and enterprises will be benefited from the win-win strategy to integrate production with education.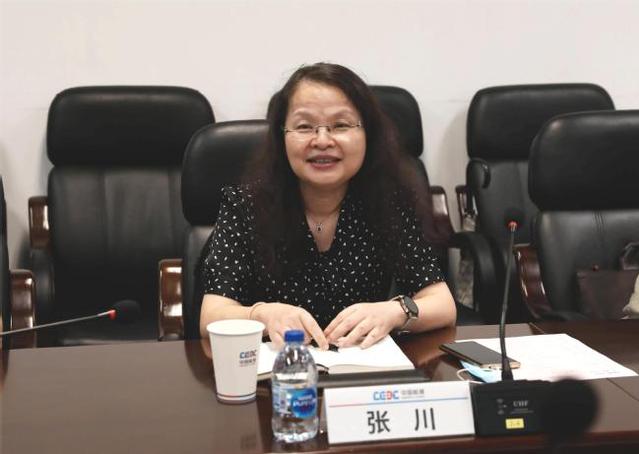 On behalf of SUEP Zhang Chuan extended her gratitude to East China Electric Power Design Institute for having hired and trained so many outstanding technicians and professionals who graduated from SUEP these years. She said that without the staunch support of all the alumni the development of the university would be impossible, and their alma mater is proud of their excellence in their own fields. It is hoped that both parties will strengthen ties and seek more communication in the near future.
Li Hexing and Gu Jin attended the inauguration ceremony held for the studio for the graduates, which is the first workstation co-built by East China Electric Power Design Institute and a university. By building up a platform in the form of a studio both parties will continue to conduct an in-depth, all-round, broad and sustainable cooperation to speed up the integration of production and education.
Contributor: Division of External Liaison