On the afternoon of August 25th, Zhang Chuan, chief accountant of SUEP, led a team to visit Shanghai Power Transmission and Transformation Company (hereafter SPTTC) for an investigation. They were warmly received by Chen Chunlin, deputy general manager of Shanghai Electric Power Company affiliated to State Grid and chairman of the Labor Union, Zhang Yibin, executive director and secretary of the Party Committee of SPTTC, and Yao Weiguo, secretary of the Discipline Inspection Commission and chairman of the Labor Union. Both parties conducted an in-depth communication on continuing to implement double-carbon policies, seeking comprehensive energy development, propelling digital transformation, talent training, and strengthening cooperation in production, education and research.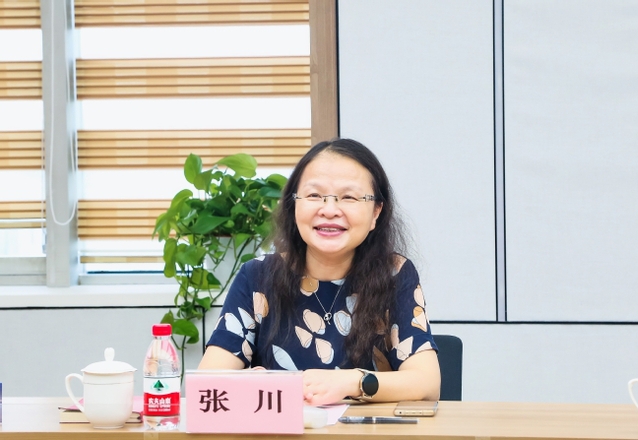 Zhang Chuan made a brief introduction of the recent development of our university and the current situation and major academic interests of the College of Economics and Management. She said that in recent years our university has devoted herself into serving the national strategy and launched a profound academic exploration in the management of the electric power enterprises, cost analysis, comprehensive energy construction, and digital transformation and has achieved remarkable achievements in the domains mentioned above. Both parties are expected to build up a platform for mutual communication between practitioners and theorists through this exchange of discussion and also for educating people so that the available resources will be shared, the double-carbon policies will be better implemented, comprehensive energy development will be gained, mutual cooperation integrated with production, education and research will be strengthened in urban energy network construction and other aspects to build up a new mode of cooperation between universities and enterprises, to enhance cooperative efficiency, to achieve more results in cooperation, and to gain mutual benefits.
Chen reviewed their work this year to make efforts to guarantee the supply of electricity against the Pandemic and to confront with the consumption of electricity in the peak time of summer, and started a discussion with experts and scholars from our university on ensuring ample energy supply and structural adjustment. Chen expressed thanks to our university for its long-term professional and technical support to them, stressing that both parties have established a longstanding cooperative relationship; up till now our university has trained a good number of talents for them and through cooperation we have achieved remarkable achievements in the integration of production, education and research; Confronting against the new situation and new challenges, both parties are expected to continue to join efforts with the collaboration in removing the barriers in scientific research and seeking innovation to ensure the stable supply of urban energy at a high level, to propel energy transformation and development with high quality, and to serve the common goals in the framework of the national energy strategy.
Zhang Yibin showed his full hospitality to Zhang Chuan and her company and elaborated their painstaking efforts to accelerate the construction of key projects such as UHV, expanding comprehensive energy engineering services to serve the purposes to reach the double-carbon targets, and to seek scientific innovation and corporative development. He pointed out that in recent years their company has been clinging to the developmental pattern one plane with four wings and focusing on expanding the grid business. They will make every effort to establish a solid enterprise system, improve the operating mechanism, optimize the distribution of resources; by ensuring the internal safety, they will strive to enhance their independence in scientific innovation, build up first-class enterprise brands, pursue comprehensive benefits for their corporation, and enhance their competitiveness. Both parties are expected to strengthen cooperation, to expand the possibilities of cooperation, and to better serve the purposes to propel the transformation and development of Shanghai.
The concerned directors of the Department of Financial Affairs, the Division of External Liaison and the College of Economics and Management were among the visitors.
Contributor: Division of External Liaison